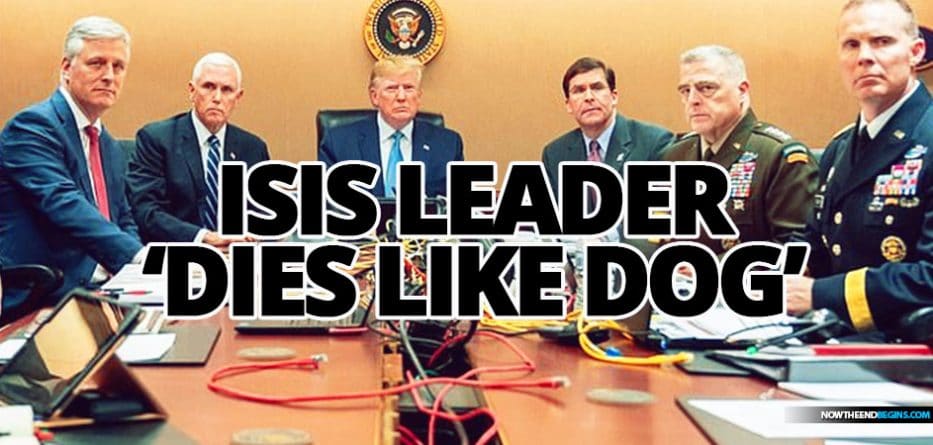 The White House confirmed that Trump watched and listened to the operations unfold in the Situation room Saturday night – Sunday morning Syria time – with National Security Advisor Robert O'Brien, Vice President Mike Pence, Secretary of Defense Mark Esper and Joint Chiefs of Staff U.S. Army General Mark Milley and Brig. General Marcus Evans.  The president said, while claiming he's been looking for Baghdadi ever since assuming office, that he's potentially the only one better at 'using the internet' than ISIS forces.  'A couple of weeks ago they were able to scope him out,' Trump said of the U.S. intelligence community.
President Donald Trump announced Sunday morning that ISIS leader Abu Bakr al-Baghdadi 'died like a dog' as the result of a U.S. Special Ops forces raid on his hideout in northwest Syria.
That ripping sound you heard earlier today was the sound of Democrats in Washington pulling their own hear out of their own heads as Donald Trump kept yet another campaign promise in spectacular fashion. President Trump watched while US Special Ops forces raided the secret lair of ISIS supreme leader Abu Bakr al-Baghdadi early Sunday morning. Faced with no way out, al-Baghdadi detonated his own suicide vest rather than face justice in the United States.
This comes as a much-needed shot in the arm for not only the so-called 'war on terror', but to buoy the reelection prospects of Donald Trump in 2020. Good job, Mr. President, keep up the good work. I loved how you specifically pointed out that al-Baghdadi "died like a dog", doesn't get much better than that. You sent the snowflakes over at fake news CNN into a tailspin (see video below of the Liberals whining about it), and sent your reelection chances soaring into the stratosphere. And the Trump Train just keeps on rolling…rolling right over that phony impeachment kangaroo court, too. #MAGA2020
https://www.nowtheendbegins.com/president-trump-announces-isis-supreme-leader-abu-bakr-al-baghdadi-died-like-a-whimpering-dog-after-us-special-ops-raided-secret-hideout/