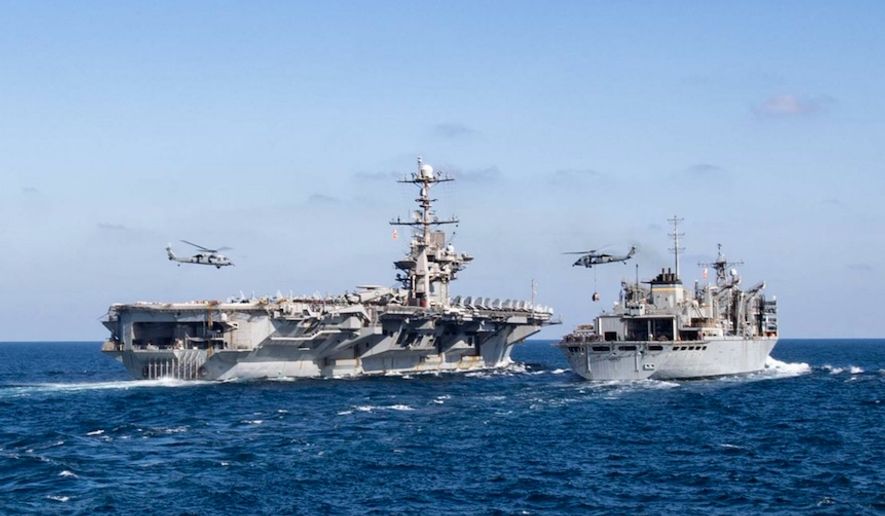 "U.S. Central Command is well postured to defend our forces around the region and to respond to any further aggression against our forces," the combatant command tweeted
U.S. Central Command closed out the week by sending a strong message to Iran regarding the "enormous" firepower of nearby carriers the USS Dwight D. Eisenhower and the USS Harry S. Truman.
The recent killing of U.S. Army Spc. Juan Miguel Mendez Covarrubias, U.S. Air Force Staff Sgt. Marshal D. Roberts, and British Army Reservist Lance Cpl. Brodie Gillon by Iran-backed Kata'ib Hezbollah appears to have partly prompted the first dual use of carriers in the region since 2012.
CENTCOM's official Twitter account put out a direct quote by Gen Frank McKenzie saying, "I would caution Iran and its proxies from attempting a response that would endanger U.S. and coalition forces or our partners."
-Read more here: https://www.washingtontimes.com/news/2020/mar/13/iran-warned-not-to-mess-with-us-as-centcom-spotlig/?utm_source=Boomtrain&utm_medium=manual&utm_campaign=newsalert&utm_content=newsalert&utm_term=newsalert&bt_ee=1oGQILxNybnS4HjMW3HEo3xzs8RZYvdFw2lmep7ZPHQ%3D&bt_ts=1584136184047