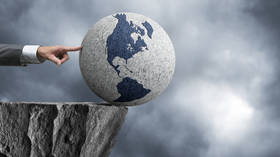 ©  Getty Images / DNY59
As we cross into the second half of 2020, there is little hope left that our misfortunes will end when this annus horribilis goes out. We may be entering one of the most cataclysmic and fateful periods in the history of humankind.
There is the growing realization that humanity is in for an extremely rough ride that could last at least a decade.
This sense of uncertainty has been building up for years. It probably began with the global financial crisis of 2008-09. Yet, until 2020, there was hope that the world would somehow return to the right track and regain stability. Covid-19 ended this hope, devastating the global economy and exacerbating the pre-existing tensions between the incumbent hegemon (the United States) and a new super-power contender (China).
The state of angst has descended upon many. In most countries, including Russia, the plague continues to circulate, killing people with terrifying randomness. Even if we win the battle against the latest coronavirus, the mega-trends in global politics that point to more trouble and disorder are not going to dissipate and will likely only intensify. When trying to rationally break down my personal angst, as a political scientist, I perceive at least four such mega-trends.
READ MORE HERE: https://www.rt.com/op-ed/495291-split-societies-global-chaos/